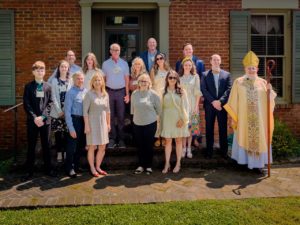 Confirmation for both adults and teens is held once a year, generally in the spring.
Confirmation Classes are for people who either want to be confirmed in the spring and/or want to explore their faith. Our goals for this program are to help people understand what it means to be a Christian, both as Christianity is lived today and also grounded in the ancient teachings of the Church.
For more information about youth confirmation, contact Nic Parmer at nic@stpaulsfranklin.com.
For more information about adult confirmation, contact Father Rusty at rusty@stpaulsfranklin.com.