Our Doors Are Always Open
Welcome to St. Paul's
Everyone — whoever you are and wherever you are on your spiritual journey — is welcome at St. Paul's Episcopal Church.
We are open and welcoming of all regardless of your age, health, education, ethnic or regional background, gender, sexual identity or orientation and no matter your religious or secular background.
Our doors are always open.
Eucharist
Morning Prayer and Compline
Sunday
7:30 am Holy Eucharist (Masks Optional)
8:45 am Holy Eucharist (Masks Optional)
Broadcast available on Facebook
Sunday Bulletin and Take Out
10:00 am Christian Formation
11:00 am Holy Eucharist (Masks Optional)
6:00 pm Holy Eucharist (Masks Optional)
Nursery Available 8:30-12:15. No Reservations Needed
Wednesday 
12:05 pm Holy Eucharist and Healing (Masks Optional)
NEW IN-PERSON WORSHIP UPDATE: Beginning Sunday, November 28, 2021, masks are optional at all worship services. Masks are still mandatory for all meetings held within the church. 
Our Stewardship Campaign is ongoing. Thank you to so many of you who have pledged.
We have been fortunate to hear from some of our parishioners and people in the community who benefit from St. Paul's ministries and outreach. You can learn more about the impact St. Paul's has had on their lives and the people they serve by visiting our stewardship page.
Stewardship is our opportunity to give back to God a portion of what has so gracefully been given to us. If you have not filled out your commitment card, please prayerfully consider your contribution for the many ministries St. Paul's has to offer. Through your generosity we will be able to plan accordingly for 2022 and beyond.
Thank you and may you be transformed in this season of giving.
2021 Winter Schedule
Click on the Winter Schedule to the left for a large version of the events scheduled at St. Paul's for December.
Advent Devotions
Advent is the liturgical time in our Church calendar when we focus on waiting and preparing our hearts for the coming of the Jesus, the Christ child.
You are invited to use this season of Advent as a time of reflecting and drawing closer to God through the daily reflections and prayers inspired by Scripture and the spiritual writings of Henri Nouwen. "The Fullness of Time" Advent Devotion booklets can be found in the Narthex or just inside the church office doors.
Advent Wreath Making
Join us for our final Gathering for Good of 2021! We will gather in Otey Hall to have a pasta dinner and to make Advent Wreaths!
Dinner will be $5 per person or $20 maximum per family. Kits for making Advent Wreaths will be available for a suggested $10 donation.
If you'd like to donate greens for this St. Paul's tradition, you may drop them off in the 6th Avenue Courtyard beginning November 28th. Please leave them on the table under the covered walkway.
Alternative Gift Fair
On Sunday, December 5, St. Paul's will be offering a wonderful alternative to gift giving. Several representatives from local charitable organizations will be in Otey Hall in from 8:30 am – 1: pm and 4:00 -6:00 pm, just before our traditional "Lessons & Carols."
These mission-driven groups will welcome donations to help them continue their important work while in return you get the opportunity to honor a family member or friend with a unique gift. You will leave with a pretty personalized gift card for giving that reflects the donation.
Representatives will be present from a variety of nonprofits, including: Begin Anew, Episcopal Relief & Development, Gigi's Playhouse, My Friends House, NOOK (Needs of our Kids), and Healing Housing. Click the button below to learn more about these organizations:
Sweets and Treats and Advent Lessons and Carols
Our Annual Sweets and Treats and Advent Lessons and Carols celebration will be Sunday, Dec. 5, beginning with a movie showing in Otey Hall (The Best Christmas Pageant Ever!) Cookies and hot chocolate are at 5:00 pm, then the choir's offering of our favorite service, Advent Lessons and Carols, at 6:00 pm.
The Alternative Gift Fair will be set up in Otey that evening, as well. You can have a sweet family moment, hear beautiful music in a worshipful setting, and cross those names off your Christmas list in one heavenly evening.
Bring some sweets to share. We hope to see you there.
Blue Christmas
Our "Blue Christmas" service will be on Tuesday, December 14 at 6 pm. This is a quiet service with reflective music, designed to acknowledge pain, depression, loss, grief, illness, or other struggles you may experience this holiday season.
In that place of darkness, we encourage comfort in the light of Christ during this Advent season of holy waiting and expectation.
Please feel free to invite family or friends who might benefit from this service.
Social Graces
Lunch and Musical Entertainment – Thursday, December 16
11:30 am – Catered Lunch
12:00 noon – 1:00 pm Seasonal Musical Entertainment
$10 for lunch. RSVP by Monday Dec 13. Note any dietary restrictions. Pay for lunch at the event
RSVP to Monna at monna@stpaulsfranklin.com or 615-790-0527.
Social Graces is a ministry planned for people 55 years old and older, but anyone, any age is welcome to our programs and events.
Caroling Down Main
Caroling Down Main Street, Sunday December 19, 4:30 – 6:00 pm
We will meet in Otey Hall at 4:30 and the carol down Main Street until 5:15 pm. We will return to Otey Hall for a short movie, cookies, and hot chocolate! Songbooks provided.
Children's Pageant
This year, the pageant will "rehearsal free". This means that anyone can participate on Christmas Eve, even friends or cousins visiting from out of town! We will have rehearsal for the hymns we will sing during the pageant, however. This will take place on Sundays: December 12th and 19th during the 10 am Christian Formation Hour. Again, this is not mandatory to participate. It's just a time to brush off our vocal cords to be ready to "Go Tell it on the Mountain" on Christmas Eve! Remember, the pageant will be at the 4:30 service on December 24th. Call time for children who are participating is 3:30 pm. If you have any questions, send them to libby@stpaulsfranklin.com.
Christmas Eve at St. Paul's
4:00 PM Carol Sing-A-Long with St. Paul's Strings
4:30 PM Children's Christmas Pageant and Eucharist Service
7:00 PM Carol Sing-A-Long with St. Paul's Strings
7:30 PM Festive Eucharist Service
10:30 PM Carol Sing-A-Long with St. Paul's Strings
11:00 PM Festive Eucharist Service
Christmas Day
Christmas Day Eucharist 10:00 am followed by Christmas Day Potluck Lunch at 11:30 am in Otey Hall.
We provide the turkey and ham. You bring an appetizer, side dish, or dessert.
Questions? Contact Kathy Ulezelski or Gerald Hancock.
Epiphany Brunch
We will kick off the second half of Christian Formation with an Epiphany Brunch on January 9th at 10am in Otey Hall! We will get together in Otey Hall to share a meal and fellowship with our parish family before returning to our regular Christian Formation schedule on January 16th. Drinks will be provided, so bring a dish to share and we will see you there!
News
Keep up to date on the latest news from St. Paul's by reading The Epistle and News From The Pews.
Click on The Epistle cover to read St. Paul's monthly newsletter. The Epistle is published the first of every month.
Do you have news? Send it to us at communications@stpaulsfranklin.com.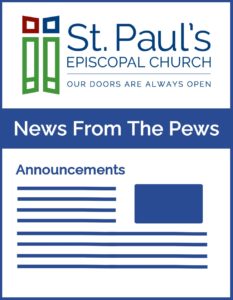 News From The Pews, St. Paul's weekly news email, comes out every Wednesday afternoon. The latest announcements, news, upcoming events, meetings, etc., are all in NFTP. If you are not receiving it, send your email to us at communications@st.paulsfranklin.com to be added to the mailing list.
Altar Flowers
If you would like to sign-up to memorialize, honor, celebrate or thank a special person(s) with Altar Flowers, please sign up on the date of your preference by visiting: