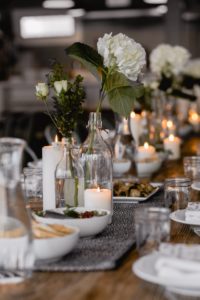 Let's have dinner together! At long last, Dinner Groups are coming back this Fall. Since Dinner Groups are small groups of people who get together monthly (September – May) to share dinner, they are a great way to meet new people and reconnect with long-time friends.
Sign-up to join one of these dinner groups:
Families with Young Children Dinner Group
Adult Dinner Group
Women's Dinner Group – (Meet at Restaurants)
Men's Dinner Group
Dinner is better together. If you have any questions, please contact Ellen Kirk at 615-545-8820 or ellenvkirk@gmail.com or Monna Mayhall at monna@stpaulsfranklin.com.
To Join a Dinner Group:
Fill out the information below. You will receive an email or a call in early September, inviting you to the first get together for your dinner group. Groups typically meet once a month from September-May.