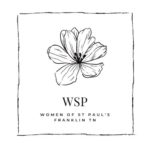 Women of St. Paul's English Tea To Go
Pick-Up Information
Saturday, December 11, 2021
Noon – 2 pm
St. Paul's Episcopal Church
510 West Main Street
Franklin, TN 37064
Curbside pickup outside Otey Hall at St. Paul's Church
The curbside pickup location will be clearly marked with signs. Volunteers will also be present to direct you where to go. You can stay in your car, no need to get out!
If you have any questions regarding the English Tea, please email StPaulsEnglishTea@gmail.com.
Contact Us
Please contact us if you have any questions!
The 2021 English Tea will again be a To-Go only event.
This year's Tea theme is Vintage Christmas Music. As you open your Tea Box at home, imagine you are opening a Christmas Music Box from St. Paul's. We are excited to include a book of Christmas Carols and access to a video of St. Paul's Musicians and Artists performing. This can be played while enjoying your classic English Tea in the comfort of your own home; our hope is to also make you feel connected!
Children's Boxes are available to purchase, filled with kid friendly contents.
We have up to 250 boxes available for purchase; boxes will be sold on a first come first serve basis.
All necessary COVID-19 protocols will be in place to ensure a safe event.
If you have any questions regarding the English Tea, please email StPaulsEnglishTea@gmail.com.
Purchase English Tea To Go Boxes
Boxes are $25 EACH
Each Tea To Go box is enough for one person
Sales will be open from October 8 – November 5, 2021
Box pick up is at St. Paul's on December 11, 2021
Boxes can be purchased here:
English Tea To Go – Children's Box
Sweets
Orange-cranberry scone with Devonshire cream and strawberry jam
Gingerbread truffle
Pecan tart*
English toffee*
Chocolate-dipped dried apricots
Sugared grapes
Savories
Curried chicken salad sandwich*
Blue moon sandwich*
Cucumber sandwich
Turkey arugula sandwich
Tea
Two traditional Indian-Assan tea bags
Sugar cubes
Lemons
Children's Menu
A children's Tea To Go box can be purchased for the same price as the regular Tea To Go box ($25).
The children's box will contain a peanut butter and jelly sandwich, cheese, grapes, a candy cane, all of the items listed under "Sweets" from the regular Tea To Go menu, a packet of hot cocoa (instead of tea), and a Christmas coloring book!
*Items contain nuts.
Note: minor changes could be made to menus.
Please refrigerate Tea To Go boxes if not consumed shortly after pickup.