Church In The Yard (CITY)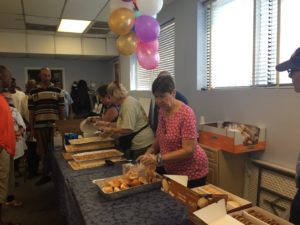 On the fourth Sunday of each month, a group from St. Paul's travels to Church of the Holy Trinity in downtown Nashville to participate in Church in the Yard (a.k.a. "CitY"). Our group is now also providing a meal at Jefferson Street Bridge on the 4th Sunday of each month. We carry a meal to share with a couple hundred of our homeless brothers and sisters and provide them with a small bag of food that they can take with them to eat later (peanut butter sandwiches, snack crackers or granola bars, bananas, and a small sweet something of some sort).
The Youth of Saint Paul's have made a tremendous contribution in building connections between our ministry and the folks we are trying to serve. Additionally, there are many "One Offs" that have come from the original CitY outreach. We have provided meals for Dismiss halfway house in Nashville. Now our Daughters of the King order hopes to get more engaged with us on a regular basis. We have been blessed with a conduit to getting warm clothes, tents and sleeping bags to individuals in need. If you feel called to support our outreach efforts through this ministry, there are many ways you can help.
There is always grocery shopping to do, food to prepare, food to serve, and conversation to enjoy.
Contacts: Mike Gengler, 615-545-8344, Ellen Kirk 615-794-1497 or Gerald Hancock, Terry O'Donnell, and Joe Horne.